2012  40'x12' General Coach Huronridge Maitland Manor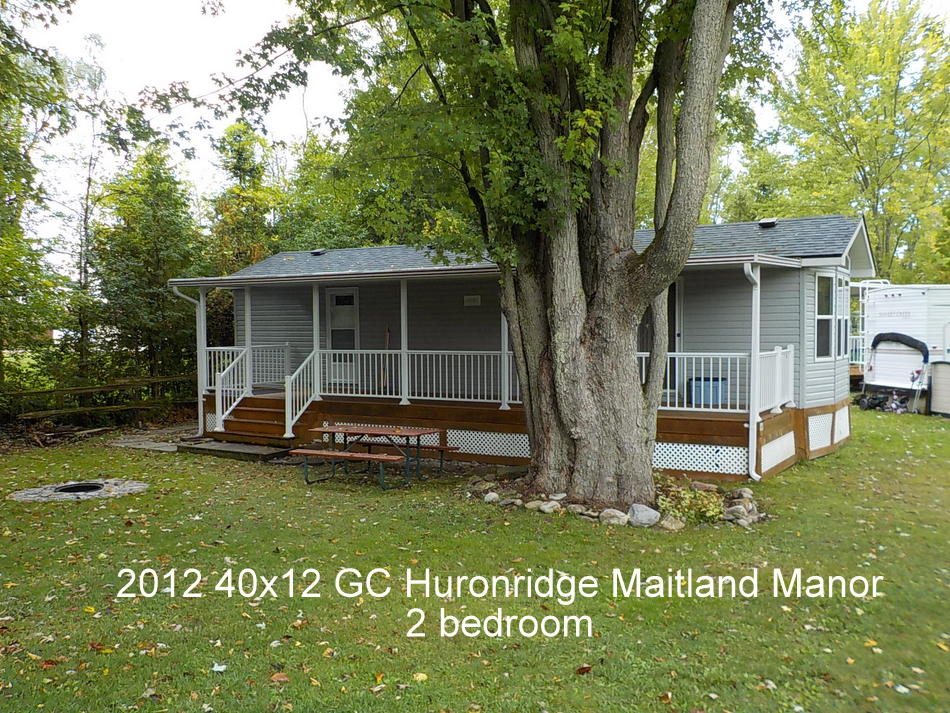 35' H&H hard roof and railings, fully skirted, Bayshore Burgandy interior, full 4 piece bath with tub & upgraded china RV toilet, 2 bedrooms, large master bedroom with berber carpet, matching bedspread, shams, decorator pillow, queen pillow top bed w/Ash headboard, optional overhead cupboards above bed, full closet w/drawers underneath and dresser, 2 night stands, built in bedside lights, second room has a full double lower with a twin upper bunk bed and wardrobe w/drawers.
Living room has berber carpet, a queen sofa bed, solid oak coffee & end tables, lamps, electric fireplace and ceiling fan.
Kitchen has a full size electric fridge, propane 30" stove/oven, large combination microwave/range hood, solid ash cupboards, solid wood table with 4 fabric chairs.
Extra trailer features: raised dormer with windows in the living room/kitchen, pentagon window on the end, deck covered with hard roof,  H&H aluminum railing and 7×7 vinyl shed.
Asking price $76,000 plus seasonal site rent
Click on any image to view larger, and click on each image to go to next image.